The Austin Banjo Club has made two recordings that are available in either tape or CD form.  Product is sold at our performances and also at our practice sessions which are held each (non-holiday) Monday evening from 7 PM to 9 PM at the Senior Center at 29th and Lamar. 
Recordings may also be purchased by requesting them from Mr. Bob Alexius at palexius@austin.rr.com.
Tapes are $10 each and CDs are $15 each.
---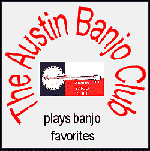 The Austin Banjo Club Plays Banjo Favorites
Our first recording was made in June, 1990 at Sound Horizons Studio in Austin.  The room was crowded and unbearably hot, but had to be closed up tight with fans turned off during the recording of each song.  
The songs on this recording are:
Bourbon Street Parade
Medley - Baby Face / I'm looking Over A Four-Leaf Clover
Daisy Bell
Medley - Somebody Stole My Gal / If You Knew Suzy / Yes Sir, that's My Baby / Nobody's Sweetheart
Medley - Carolina In The Morning / California, Here I Come / Alabama Jubilee
Sweet Georgia Brown
Five Foot Two, Eyes of Blue
Put On Your Old Gray Bonnet
Jealous
The World Is Waiting For The Sunrise
Beer Barrel Polka
Everywhere You Go
King Chanticleer
Let A Smile Be Your Umbrella
Lies
I Wonder Where My Baby Is Tonight
All By Myself
Just A Girl That Men Forget
Waiting For The Robert E. Lee
Medley - Chinatown, My Chinatown / China Boy
The Shiek Of Araby
Bye Bye Blackbird
Bill Bailey, Won't You Please Come Home
Bye Bye Blues


---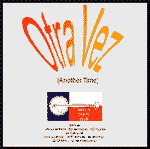 Otra Vez: Another Time
The Austin Banjo Club Plays Music of the 20th Century
Our second recording was made at Willie Nelson's studio at Spicewood, Texas.  Willy's tour bus was there, but unfortunately, Willie did not drop by that night.
The songs on this recording are:
El Rancho Grande
After You've Gone
Alabamy Bound
Angry
Alice Blue Gown
At The Mississippi Cabaret
All By Myself
Bogalusa Strut
By The Light Of The Silvery Moon
It's A Sin
Painted Tainted Rose
It Had To Be You
I'm Gonna Sit Right Down And Write Myself A Letter
Wait Till The Sun Shines, Nelly
The Old Spinning Wheel
Hill Country Swing
Mister Sandman
Heartaches
Coney Island Washboard
Someday You'll Be Sorry
Toot Toot Tootsie
Medley - Down By The O-hi-o / By The Beautiful Sea / Floatin' Down To Cotton Town
Sunny Side Up
Hello, Bluebird
George M. Cohan medley - It's A Grand Old Flag / Give My Regards To Broadway / Yankee Doodle Dandy